Fort Wayne Cherry Blossom Festival
On May 4th to May 7th, TAIKOPROJECT had the chance to return to Fort Wayne, Indiana to participate in their annual Cherry Blossom Festival. The last time we were a part of the Cherry Blossom Festival was in 2010, so it was great to return and work with our friends from Fort Wayne Taiko.
On May 4th our Artistic Director, Maz Baba, headed to Fort Wayne before the rest of the cast to lead two taiko intensive workshops for Fort Wayne Taiko in preparation for their concert that will take place later this year in November. One of the songs they will be performing is one of TAIKOPROJECT's open source pieces Omiyage, so Maz worked with them to fine tune the piece to be performance ready. The second workshop focused on katsugi okedo playing for The Stroll.
Maz with Fort Wayne Taiko!
Two Workshops. One Day. Good Times!
The following day, Jen, Brian, Liz and Doug made their way to Fort Wayne from Los Angeles and spent the whole day traveling first to Chicago and then a second short plane ride to Fort Wayne. Some of the highlights were flying over Lake Michigan and power walking through O'Hare Airport. Once we landed we were taken to our respective home-stays and rested up for the long day ahead.
On Saturday May 6th, we had to wake up early and head to Trine University for a public taiko workshop and evening concert at the T. Furth Center of the Performing Arts. The workshop consisted of learning the stance, striking the drum, and playing lines of Renshuu and Oroshi. The turnout was great for the workshop and we had students, families, and members of the community in attendance to learn about the Japanese art form of Taiko drumming. After our workshop, we took a quick lunch break at a nearby deli and then headed back to the theater to begin spiking the stage and making sure sound and lighting were on point.
After a run through of the show with transitions and jet lag beginning to settle in, we got to spend a couple of hours resting at a nearby lake house that is owned by one of the members in Fort Wayne Taiko. Much needed yummy snacks and a beautiful view of the lake helped us relax and mentally recharge for the evening show. The show went smoothly and after the performance the audience met us with kind words of praise and how they enjoyed the concert. One of the audience members in attendance is the owner of a restaurant and offered to discount our meal if we went to eat there that night, so we quickly packed up the equipment and headed over to enjoy a post-performance meal. Even though the concert was over, there was still a full day at the Cherry Blossom Festival so we headed home to rest.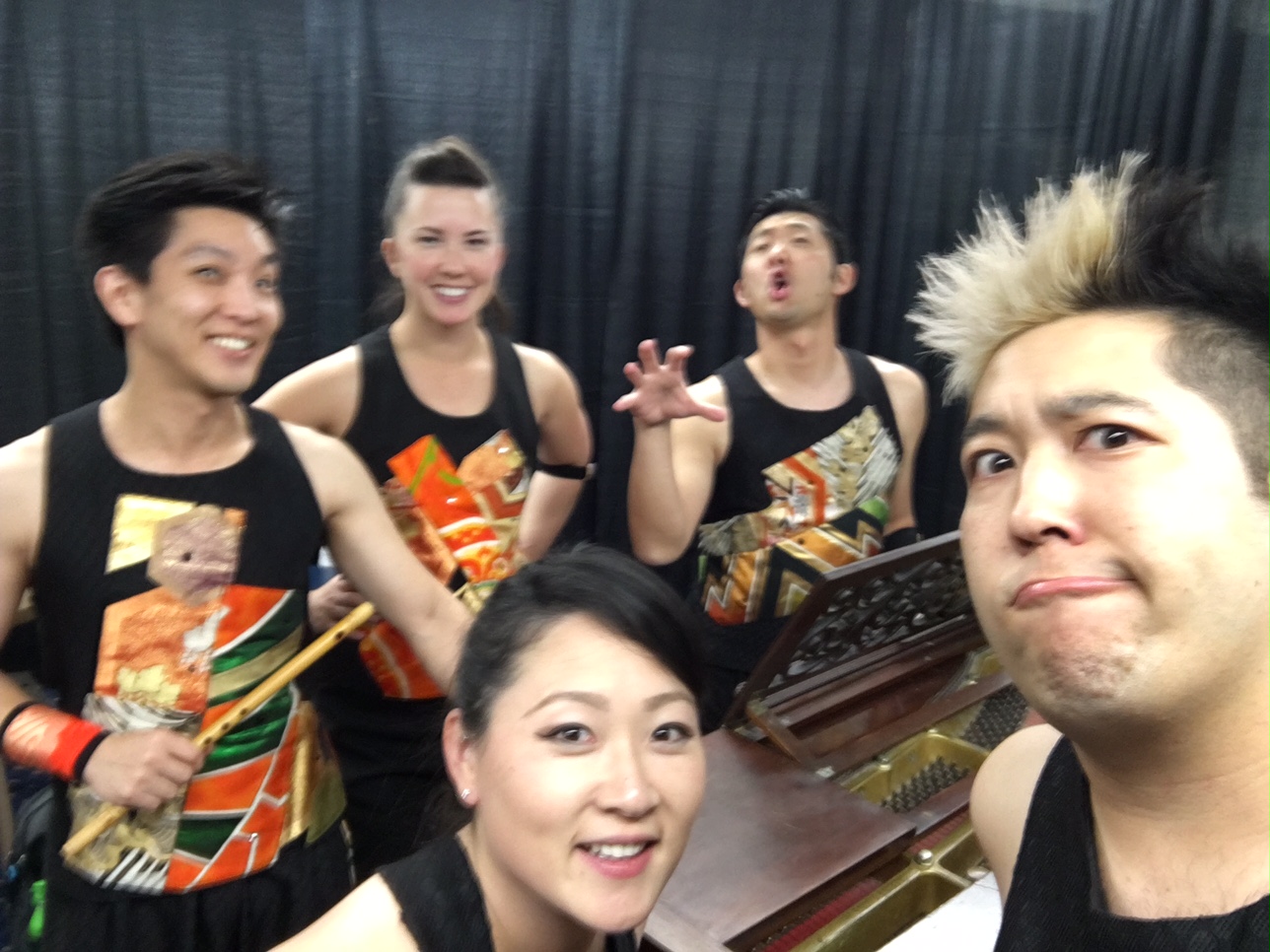 On Sunday May 7th, we made our way to the Fort Wayne Library where the Cherry Blossom Festival took place. The festival was complete with Japanese inspired food, activities, and many demonstrations of traditional dance, martial arts, music and fine arts. What was even more exciting was our friends from Fort Wayne Taiko performed too, so we had the opportunity to watch them take the stage with radiant energy and passion. However, we couldn't be audience members for too long because we had a total of four twenty minute performances to do, two on the outside stage and two in the indoor theater, so we needed to be just as energetic and ready as our friends. All the performances turned out great and it was so much fun to see the Fort Wayne Taiko youth classes perform too. It is inspiring to see the next generation of taiko players and see where they will take taiko next. Unfortunately, we couldn't stay too long after our last performance due to our travel arrangements so we headed straight for the airport for our trek back home to Los Angeles.
Though our trip was very fast paced with little time to breathe, it really was a lot of fun to teach about taiko and strengthen the ties with Fort Wayne Taiko. We would like to thank Fort Wayne Taiko for showing such generosity and kindness on this tour by housing us and letting us use their equipment for the workshop and concert. You made this trip very enjoyable and we hope that you had just as much fun as we did. We would also like to thank the Fort Wayne Cherry Blossom Committee for inviting us to play at the festival. There is such a wonderful community and it was an honor to play taiko for your event.