Central America Tour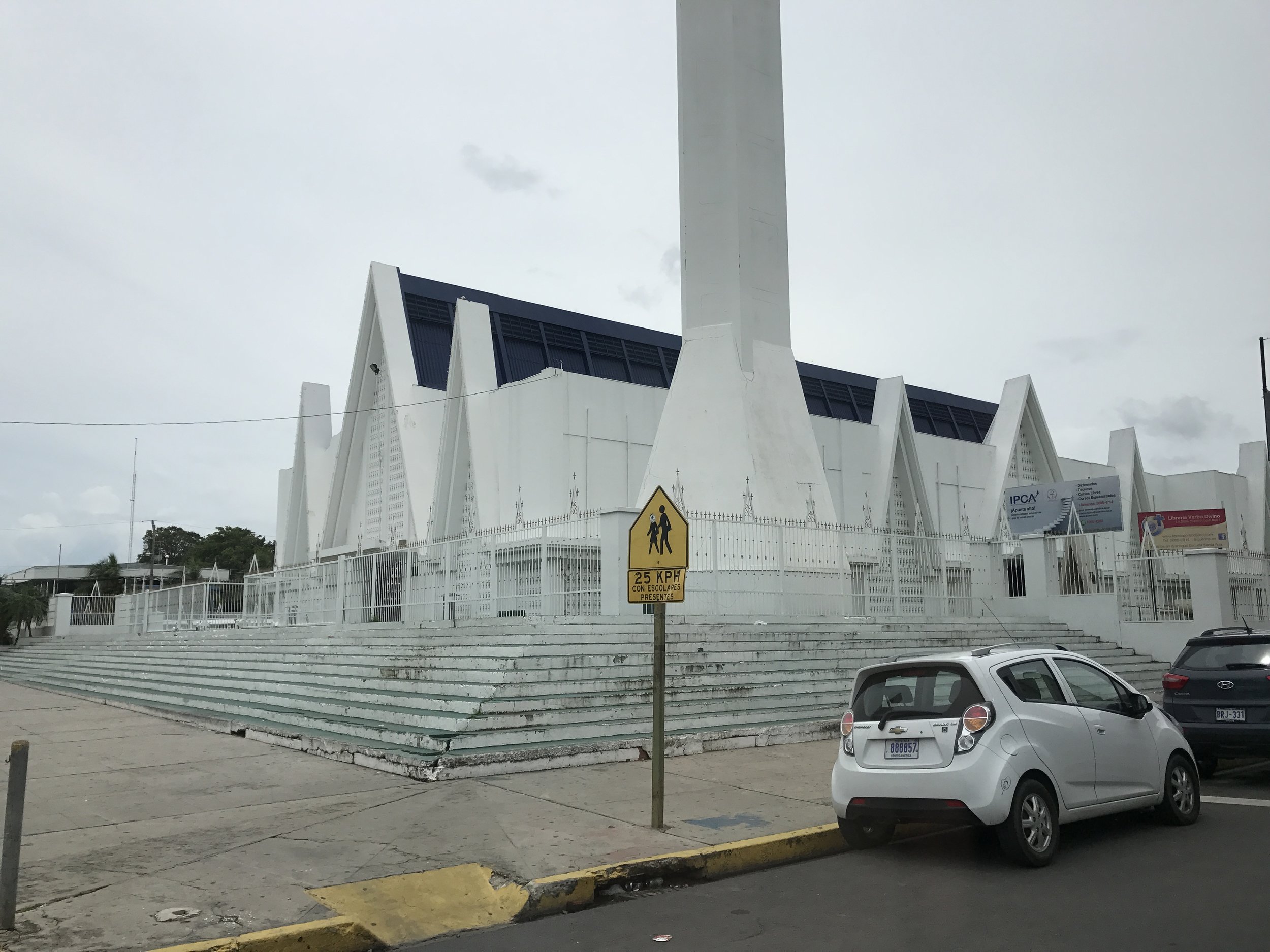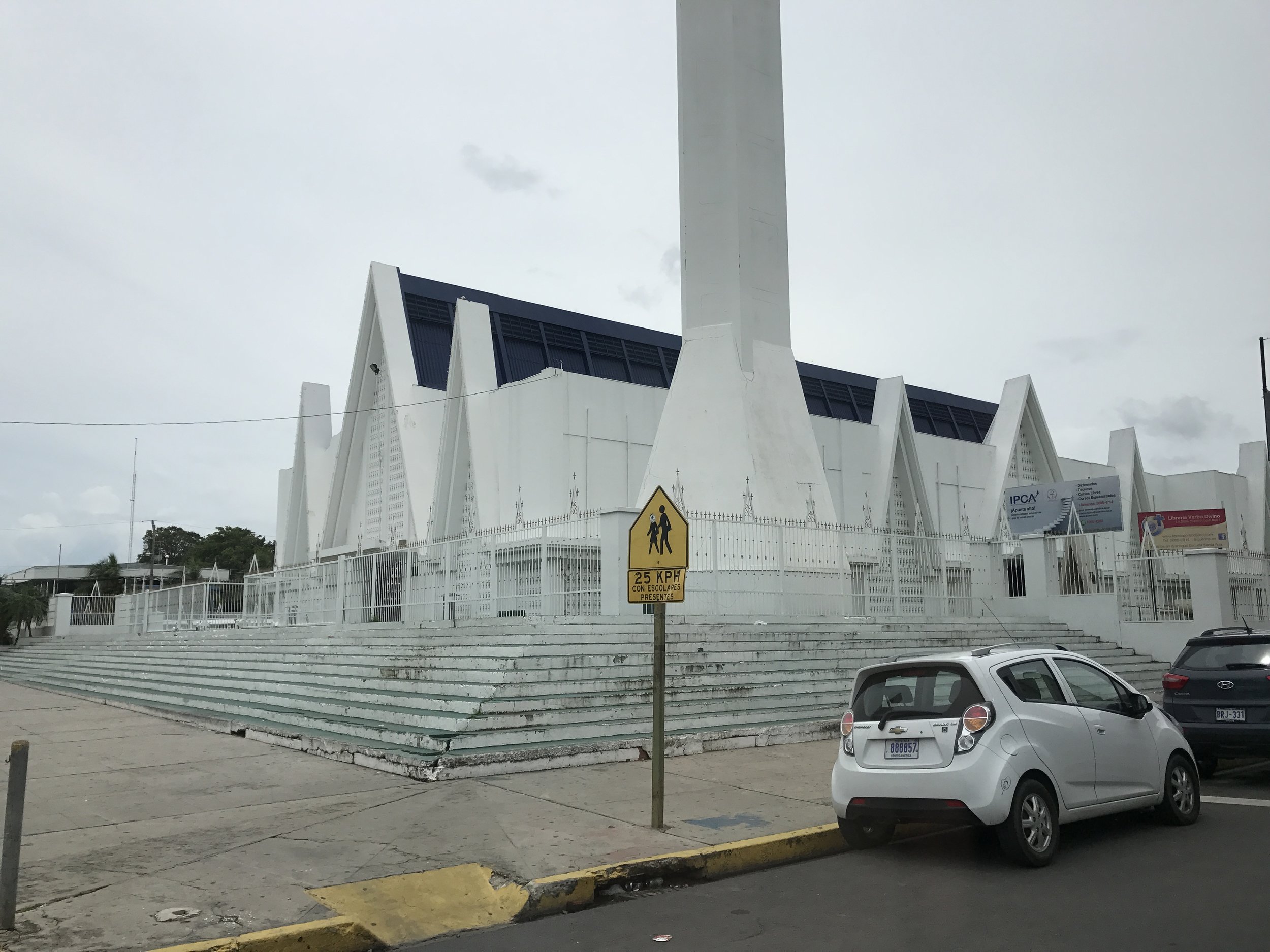 6/20/17
The Central America Four (Jen, Brian, Blaine, Jenny) along with our 16 items of luggage/equipment hopped on our red eye flight from LAX to San Jose, Costa Rica. Upon arrival at the San Jose airport, we were met by the Japanese Embassy staff. We quickly headed over to our hotel to check in, and prep for our first performance that we had later that day. Our first performance was held at Auditorio Daniel Oduber de la Universidad Estatal a Distancia, as part of the International Percussion Ensemble Festa. There were a few first time challenges that we faced for this performance such as playing on a concert marimba (normally we play on a Zimbabwean marimba so the keys are different), playing in extreme hot & humid weather, and doing MC talks in Spanish. I was a bit nervous for my marimba playing and for my Spanish speaking, but everyone was so kind and receptive…especially when we might not have had the best Spanish pronunciation! We learned the importance of the phrase "Pura Vida" among the people of Costa Rica, and I definitely found myself saying it a lot throughout our stay. It was raining and thunder storming on and off throughout the evening, and yet our audience members were so kind enough to come out to see our show. Pura Vida!
6/21/17
This day was a travel + performance day. We started out our day with a very scenic 4.5 hour drive from San Jose to Liberia. We arrived in Liberia around noon. We were greeted by a few other Liberia staff members, and were invited to have lunch with them. Lunch was a homemade traditional meatball soup which was delicious. After lunch, we were taken on a tour around the venue/city of Liberia. It was really informative and fun getting to learn a little bit of the history of the city. After our tour, we headed to our hotel to check in and prep for our evening show at the Parroquia Inmaculada Concepcion de Maria. Parroquia Inmaculada Concepcion de Maria is a large historic church located in the center of what looked like a busy area of the city. Our challenge at this venue was that there was no AC, so this meant for a very sweaty performance. Despite the heat and humidity, the performance went well, and we were very appreciative of the people who came out to see our show, and come meet us after the show. We're sorry for being SO sweaty and sticky during out meet and greet!! After our performance, we were invited to dinner. The restaurant was inside what seemed like a courtyard of one of the hotels in town. We had a few options from meat to choose from. I had the chicken and it was delicious! Also, we came to realize that plantains were basically a part of every meal in Costa Rica. Both Blaine and I became pretty obsessed with them, and we tried to find and eat them every chance we got.
6/22/17
We had a few hours of free time before we had to head to the airport on our final day in Costa Rica, so our guides graciously took us to Buena Vista, where we got to play with wild centipedes, learn about coffee making, walk across hanging bridges up in the canopy of the rainforest, and even go ziplining! Ziplining was something that has been on my bucket list for a very long time, and I was able to experience the thrill for the first time in Costa Rica! I still cannot believe it! I must say, getting to zipline through a rainforest in Costa Rica is one of the most memorable experiences I've had in my life thus far. I was, and still am, SO happy and thankful for such an awesome experience that I will never forget! Lunch in Buena Vista was buffet style. The food, once again, was very delicious. It consisted of soup, rice, frijoles, plantains, veggies, meat and yucca chips. After lunch our guides took us to a vantage point that overlooked Buena Vista for a final picture taking session before we had to head back to San Jose. Once we arrived back in San Jose, we were invited to dinner hosted by Ambassador Ito at his residence. Both Ambassador Ito and his wife were very welcoming. We enjoyed an exquisite 5-course Japanese food dinner.
(Photo Credit: Mr. Hideo Kawamoto, Brian Yamagata, Jenny Mimura)
EL SALVADOR
6/23/17
We were off to our next stop, El Salvador! We were met by the Japanese Embassy staff upon arrival at the airport in San Salvador. Our vehicle was escorted by armed guards, who followed us in a police car behind us all the way to our hotel! We didn't have any performances this day but in the evening, we were invited by Ambassador Tarahara to have dinner at his residence. We were once again treated to a delicious and exquisite 5-course dinner consisting Japanese and Salvadorian food. During dinner, Ambassador Tarahara mentioned that there is a song in El Salvador called "El Torito Pinto" that both he and the audience would love to see incorporated in our performance somehow. We decided to take on the challenge!
6/24/17
Show day! We were able to have a little bit of a late start this morning, which we were very grateful for. Before heading to the performance venue, we were invited to have lunch with the Japanese embassy staff. I typically don't eat beans that much back home in the states, but during this tour, I learned that I really enjoy frijoles. Frijoles was something that was offered both in Costa Rica and in El Salvador. I, of course, had to have some plantains in El Salvador as well! SO delicious! After lunch we headed over to the Teatro Nacional de Santa Ana where we had our performance that evening. The venue was gorgeous. It had a very Shakespearean appearance and feel to it. Soundcheck went smoothly so with the time we had left, we worked out how we would incorporate the piece "El Torito Pinto" into our show per request by Ambassador Tarahara. We were really curious & a bit nervous as to how the response would be from the audience, but as soon as we began playing the piece, the entire theatre filled with applause and cheering! We were so happy and thankful for the positive response. After the show, we did a 15 minute workshop where we pulled a few members of the audience and had them come up to the stage and try out taiko. Everyone seemed to be having a lot of fun during the workshop. After the workshop, we had a meet and greet. To our surprise we had a HUGE line of people waiting for us! Everyone was so nice and so enthusiastic about our show. We had some kids come up and tell us they were inspired by our performance…one of them even mentioned that he was going to go home and write a song because we had inspired him to do so. I wanted to give him a big hug!
6/25/17
Performance #4 at Centro Comercial Galerias! We had an early morning set up & soundcheck before the mall opened. The embassy staff took us out to lunch after soundcheck. We had learned about and expressed interest in trying 'pupusas' which is something that Salvadorians eat almost every morning for breakfast. For this reason, the embassy staff treated us to lunch at a restaurant that served authentic pupusas. The pupusas were delicious! We were taught how to properly eat them with our hands only…no utencils! After lunch, we were taken to a nearby gift shop and famous chocolate shop where we were able to do some omiyage shopping. We then returned to the mall to get ready for our performance. We did a 1 hour performance here. We incorporated the piece El Torito Pinto into our set again, which the audience seemed to really enjoy. We did a meet and greet after our performance, then packed up and headed back to our hotel afterwards.
(Photo Credit: Mr. Daisuke Kotani, Jenny Mimura)
HONDURAS
6/26/17
Travel day from El Salvador to Tegucigalpa, Honduras, our final leg of the tour! After meeting the Japanese Embassy staff at the airport in Tegucigalpa, we were driven to our hotel where we spent the rest of the night resting up and getting prepared for the following day, which was a double performance day.
6/27/17
Double performance day! We headed over to Plaza Central de Tegucigalpa where we had our morning performance. The venue was an outdoor stage that was located in a plaza in the middle of Tegucigalpa. Acropolis, a Garifuna group based in Tegucigalpa, did a 30 minute performance, then we followed with a 30 minute performance. We were asked if we could do a collaboration piece with Acropolis at the end of our evening show that day, so we took a little bit of time after our morning performances to brainstorm and rehearse together. Acropolis taught us 3 rhythms/patterns that were standard to Garifuna, then some of us took turns taking solos over these rhythms. I had not heard of Garifuna before so it was such a wonderful/new experience to be able to collaborate with Acropolis. We think that this was the first time ever that Garifuna and Taiko have been seen together! After our morning performance & rehearsal with Acropolis, we headed back to the hotel for a quick lunch, then we were off to Teatro Nacional Manuel Bonilla where we had our 6th and final performance of the tour. Similar to the theatre we performed at in El Salvador, Teatro Nacional Manuel Bonilla also had a very Shakespearean appearance and feel to it. The collaboration piece with Acropolis was received well by the audience as well. After the show, to our surprise, there was a HUGE meet and greet line. It was so fun getting to see and speak to the audience members individually, and getting to mingle with them for a little while after the show. We cannot thank everyone enough for taking time out of their evening to come out to see our performance.
6/28/17
This was our final full day of the tour. We started off the day with a live TV interview and performance for a local TV station in Tegucigalpa. In the afternoon, we had a workshop at The American School of Tegucigalpa. The school was located on top of a hill, with a great view of the city below. There was a huge indoor gym where we did a 2 hour taiko basics class for about 30 high school and a few elementary school students. The workshop was led by Blaine with Jen, Brian and myself assisting where needed. We recognized some of the students for they were part of Acropolis, whom we had performed with the night before. The students were all wonderful, attentive, and great learners! We were able to get through the lines of the piece titled "Renshu." Our hope is that one day we will see a taiko group emerge from Tegucigalpa! After the workshop, we headed to Ambassador Matsui's residence where we were invited to an exquisite full course Japanese food dinner. The Ambassador's residence was at the top of what looked like the highest hill in Tegucigalpa. The view from his backyard was absolutely beautiful. Ambassador Matsui felt most comfortable speaking in Japanese, so I tried my best to be the Japanese to English translator. It was great practice for me! After enjoying dinner with Ambassador Matsui, we decided to have one final 'kampai' at the hotel bar. 2 of the Japanese embassy staff members joined us, and we all had a really fun time getting to know each other a little more!
6/29/17
Homeward bound! Our final breakfast/lunch consisted of donuts and McDonalds at the airport. I am so thankful for this opportunity to perform and share taiko with the people of Costa Rica, El Salvador, and Honduras. I hope that we will be able to continue to get to share & spread taiko to the world, and meet new people & make new friends along the way. We would like to thank The Japan Foundation and all of the embassies and embassy staff member for their kindness, support, hospitality, and for providing us with this once in a lifetime opportunity. Thank you VERY much!!